Between all the different state requirements and exams needed to become a real estate agent, the process can seem a bit daunting. No need to worry, this article will show you everything you need to know about the process of becoming a real estate agent in Kansas.
Whether you are familiar with the world of real estate, are a complete newbie, or know someone else who has succeeded in the real estate industry, the steps needed to obtain a real estate license are the same.
There are quite a few action items involved in becoming a real estate agent in Kansas, so keep reading to find out exactly what to expect from each one.

Getting Licensed in Kansas and Missouri
Most Kansas City real estate agents obtain a license in both Kansas and Missouri. If you wish to do this, you must first obtain a license in your resident state. Once you have a license in your state, you can complete additional schooling and training to become licensed in the second state.
If you already have a real estate salesperson license in another state, you must complete the following to obtain an additional license in Kansas:
Complete the STATE portion of the Kansas salesperson exam
Have your application signed by a broker with an active Kansas broker license
File a Nonresident Form with your application
Once those steps are completed, you are ready to receive your Kansas real estate license.
If your resident state is Missouri, check out our Missouri guide to becoming a real estate agent.
The Real Estate Market in Kansas
Kansas City has been named as one of the top 10 housing markets for buyers to consider, making real estate in Kansas and Missouri a hot commodity. Kansas City is one of the nation's fastest-moving large markets, with property sellers typically accepting offers after just four days on the market. The bi-state city's diverse economy and growing business culture are two of the biggest factors in it's thriving real estate market.
However, to be truly successful in the competitive Kansas real estate market, you have got to be hard-working, self-motivated, honest, and enjoy helping people. If you check all of those boxes, then it may be time to follow the steps below and start your Kansas real estate journey.
Benefits of getting into Kansas Real Estate
The first benefit is clear — the income. A real estate sales agent in Kansas typically averages $40,000 to $52,000 per year, according to salary.com. These numbers can fluctuate based on commission percentage, number of homes sold, the split with your broker, if you have any caps, and the value of the homes.
For further insight, the average price for a home in Kansas is around $150,000, which means when a real estate agent makes a sale, they have a solid 6% commission or $9,000.
Aside from gaining a good amount of income, becoming a real estate agent has many other benefits, including:
Flexibility in your work
Constantly varying environments and tasks
Helping people
YOU are the boss
Gaining knowledge and insight about people, your community, and your area
Now that you have an idea of what you are walking into, let's get into the actionable steps that will have you on your way to thriving in the Kansas real estate market.
Do I Prequalify?
There are a couple of things to check on before you can start the process of becoming a real estate agent in Kansas.
The overall requirements of obtaining a Kansas real estate license include the following:
You must be at least 18 years of age.
You must hold a high school diploma or its equivalent.
You have NOT been convicted of certain felonies within a specific timeframe.
Once you have those boxes checked, you are ready to begin the journey of becoming a Kansas real estate agent!
1. Complete 60 Hours of Pre-License Education
There are a lot of registered real estate schools to choose from across Kansas. Pick whichever one calls to your heart, and complete 60 hours of educational classes. There are both in person and online options available for you.
The course materials will include 30 hours of real estate principles along with 30 hours of Kansas specific courses.
2. Pass the Course Final Exam
Congratulations! You have made it through your online or in-person classes and are now ready to show your knowledge. In order to pass the exam and earn your certificate, you must receive a passing score of at least 90 percent.
The School Completion Certificate you will receive is valid for six months from the issue date, which means you must complete step four (see below) within six months of passing your course exam.
3. Complete the Background Check Requirement
As a requirement of the Kansas Real Estate Commission, you must submit a set of fingerprints to the Kansas Bureau of Investigation for your KBI/FBI criminal background check before registering for your state exam.
The easiest place to get fingerprinted for free is at your local police department, and they can give you any related documents you'll need to mail in. You can find instructions for mailing on the background check application form. The background check fee is $60.
4. Take and Pass the Kansas Real Estate Licensing Exam
You heard us, another exam. Don't worry, we are here to prepare you so you know exactly what to expect.
The Kansas Real Estate Salesperson and Broker Examination is administered by Pearson VUE, an outside agency. You can register for the exam online. The exam can be canceled and rescheduled without losing your fee as long as you cancel/reschedule at least two days before the examination date.
There are several testing centers throughout Kansas, and you can find the closest one to you by using Pearson VUE's "find a test center" tool.
On the day of your Kansas real estate exam, bring the following:
Two (2) forms of identification
Certificate of Completion (not applicable to requirements met in another state candidates)

Principles of Real Estate Course (Salesperson candidates) ˏ
Kansas Real Estate Fundamentals Course (Broker candidates)
Once inside the exam site, you'll be asked to place all electronic devices, bulky clothing, and other personal items in a secure location, and you will be asked to sit in front of a computer to take the test.
The 140-question exam will be split between two sections: general real estate information, which you have 150 minutes to answer, and 50 Kansas-specific questions with a time-frame of 90 minutes to answer.
You must receive at least a 70% to become a Kansas real estate salesperson, and the score will immediately be given to you once you complete the exam. If you do not pass, you will have an opportunity to schedule to take the exam again.
For more information on the Kansas Real Estate Exam, a practice course, and more things to know, check out Pearson VUE's Real Estate Candidate Handbook.
5. Choose A Sponsoring Real Estate Broker
In order to be a licensed and active practicing real estate agent in the state of Kansas, you are required to be associated with a registered brokerage firm or broker. Working with the right broker is an important decision and a key factor in your growing real estate career. Here are some things to consider when selecting a sponsoring broker:
What is their local and national reputation?
What systems do they use?
What types of agents are they looking for?
Do they provide education and training for agents?
Do they provide marketing materials and potential leads?
What benefits do they have?
What is their commission structure?
Is there opportunity for growth?
Want to Become a REALTOR® in Kansas?
Every Realtor is a real estate agent, but not every real estate agent is a Realtor. Want to take your business a step further, have great networking opportunities, and be part of an evolving real estate community? Here are your steps to becoming a REALTOR®:
Obtain your state real estate license
Join your local REALTORS® Association — The National Association of REALTORS® (NAR) has over 1,400 associations across the U.S. You can find one closest to you with their "find an association" tool.
Pay the one-time application fee — The amount varies in each association.
Upkeep NAR membership dues — Once you are a REALTOR®, you must pay the annual association fee of $150 per year.
6. Submit Your Completed License Application
Phew! You have taken the courses, passed the exams, checked out Kansas brokers, and are now ready to apply to be a Kansas Real Estate Agent.
The testing center will give you instructions on how to properly submit your application. They will also provide you with a report of your score and any other documentation needed to apply. The completed application will likely need to be submitted by mail or hand delivered, along with the $15 non-refundable application fee and the $125 license fee.
Make sure to complete this step within six months of passing your exam, otherwise the score and certificate will have expired and you may have to restart the process.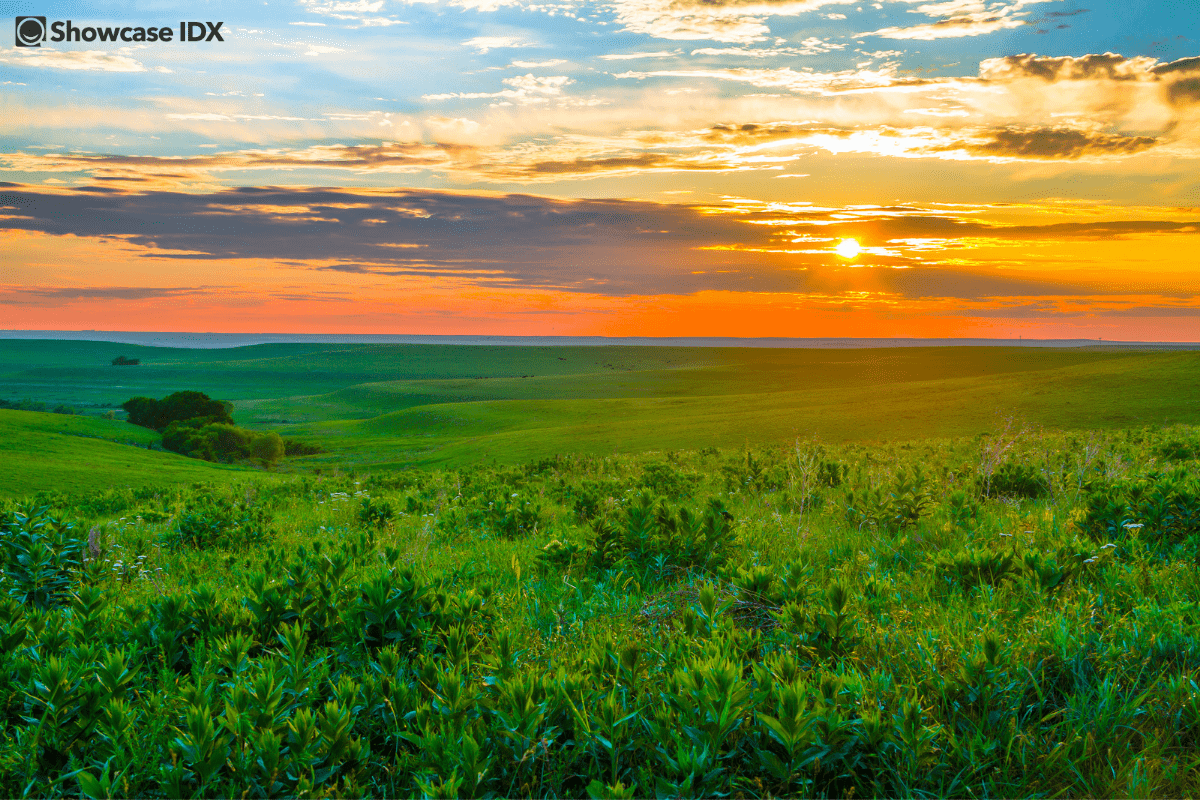 There you have it! Everything you need to know about joining the bustling world of Kansas real estate.
Now that we have taken you this far, we would love to provide you with more resources and information to help you thrive in this new venture. Get the ball rolling and be the best agent you can be with our Showcase IDX Grow Your Real Estate Business Academy courses.